Reaction from Exhibitors after the 2022 event
Balsall Heath Local History Society — & — Birmingham Canal Navigation Society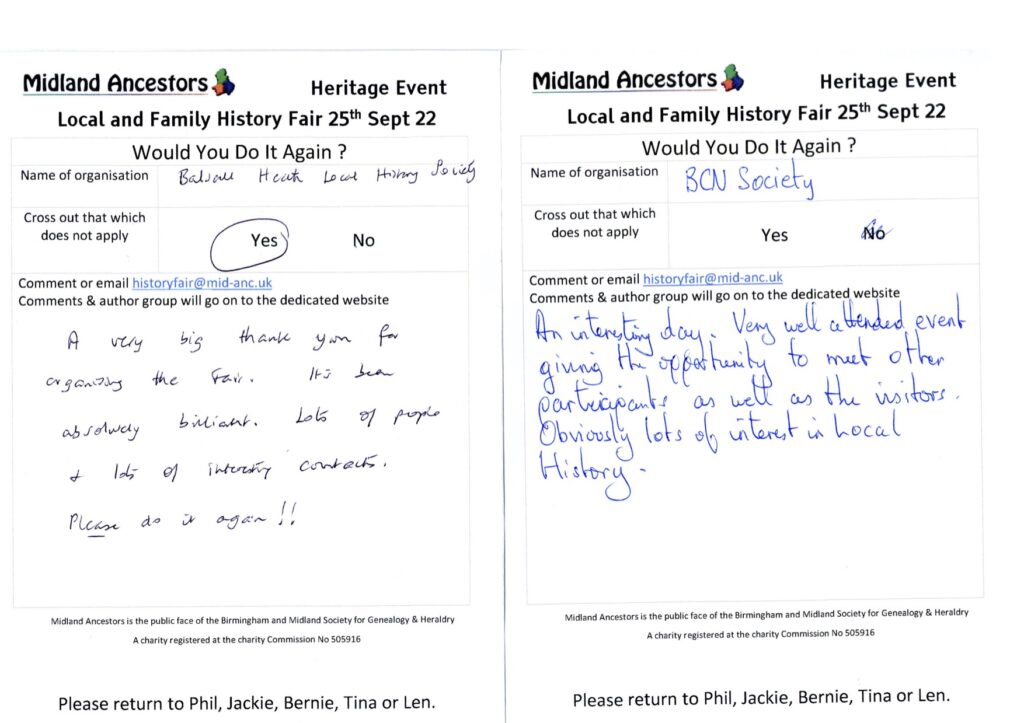 The Black Country Society — & — Chance Heritage Trust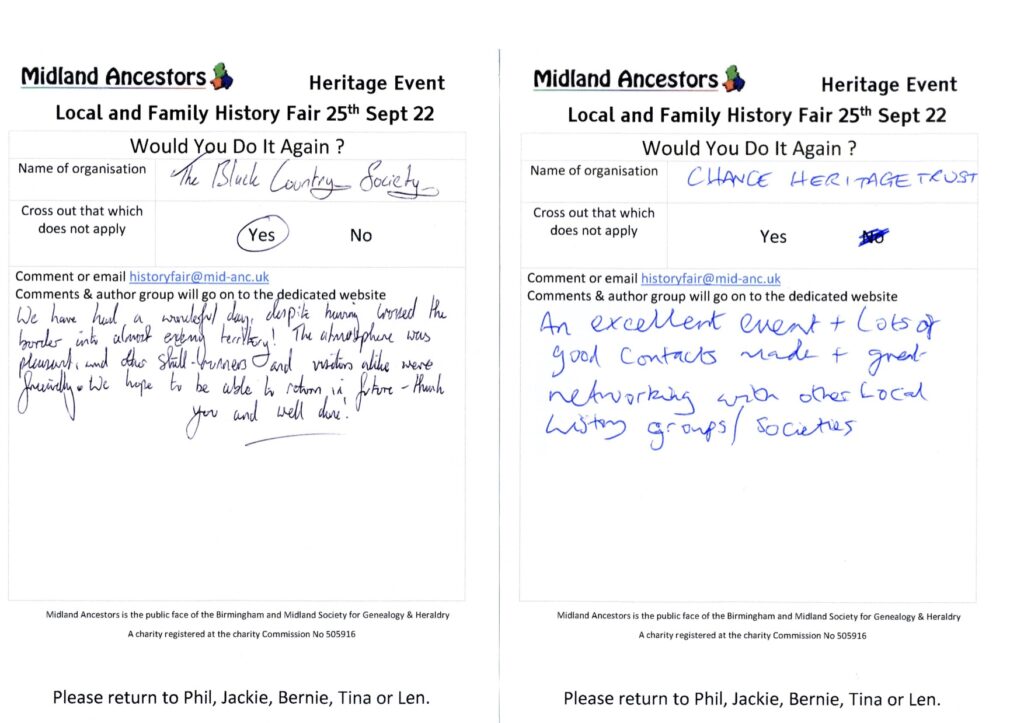 Friends of Key Hill Cemetery and Warstone Lane Cemetery — & — The Pen Museum
Shirley Thompson Books — & — Smethwick Local History Society
Holy Trinity Church Sutton Coldfield Heritage Project – & – The War Graves Photographic Project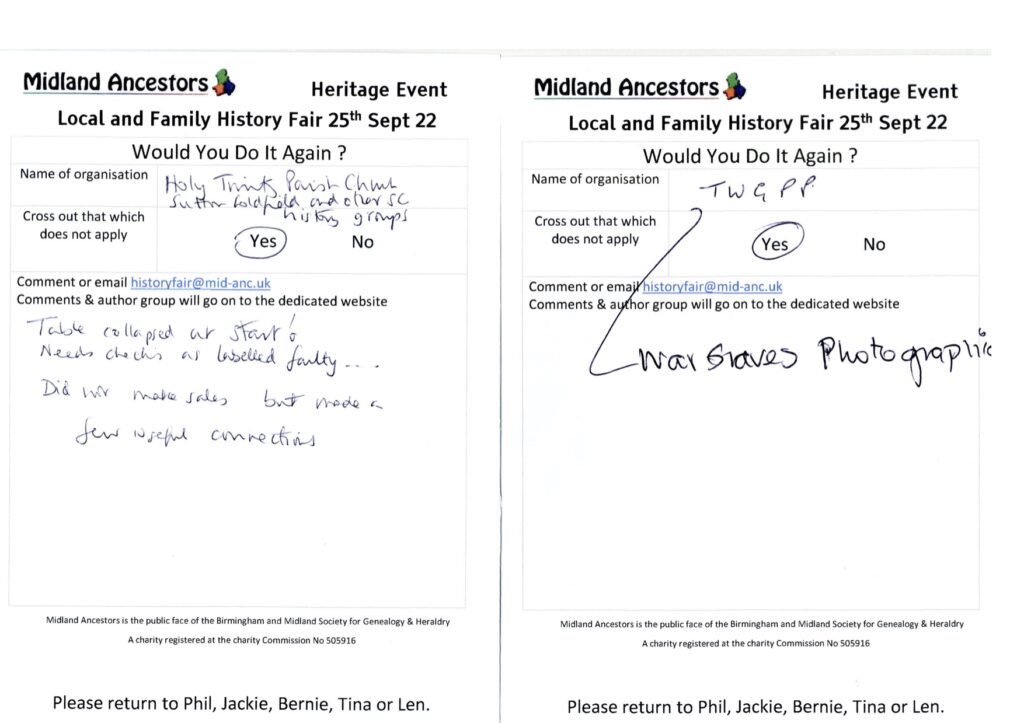 Reaction from Exhibitors after the 2019 event
Hay Mills Foundation
Terrific day. A lot of interest, contacts made and avenues to explore. Useful way to promote our work and the 300thAnniversary next year.
Smethwick Local History Society
Excellent venue, well organised, lots of enquiries and positive comments.
West Midlands Fire Service Heritage Group
Well attended despite the increase in entry fee. Unloading went well but remains to be seen what it is like when everyone is going at the same time. Well Done.
Organiser – Entry fee hasn't been increased, this is the first one we have done. No log jam noticed after the event.
Society for the History of Astronomy
A reasonable day with a number of interesting contacts made.
Balsall Heath LHS
It's a good and convenient venue. We had many visitors to our stand probably more than we have ever had at others.
Very well organised, thank you.
Friends of Birmingham Archives & Heritage
Thank you for hosting a very successful event. We would very much like to attend a similar event in the future. We've enjoyed a steady flow of visitors and nearly all our flyers have been scooped up by interested visitors. Thanks for a great day out.
B'ham and Midland Institute
Very organised, it's been a great day. We're looking forward to the next one. Thank you.
BARRA
Well run event, lots of visitors led to lots of discussions, nice to talk to other groups and exchange information. Many thanks for the invite, hope event takes place next year.
Coffin Works
Thanks so much for all the organisation & help. A fantastic event – we have met lots of great people & loved chatting to other stall holders too.
Family History Federation
Sold a fair number of books, spoke to a number of potential fhs members (including 3 directed by M.A. Lots of interest, good day.
Harborne Royalty Trust
Really interesting event which we would support by coming along again. Appreciated updates as the event approached.
Licky Hills LHS
Very Good – continual flow of people enquiring on the Lickey Hills and taking programmes. 10 – 4 good hours.
Friends of Key Hill & Warstone Lane Cemetery
Enjoyed the day, well organised, liked the layout, lighting poor by our table but we're not complaining. Looking forward to next year. Well done to all
Organiser – we'll get the lighting issue sorted out next time.
Military History Society West Midlands Police
Well Done ! Everything went well for us, thank you no problems and enjoyed our day. See you next year.
Shirley Thompson Books
Some really interesting conversations and a really broad range of visitors. Have been several helpful comments about venues for my musical.
Odyssey
Very Good day. Made a lot of contacts for some research. Friendly atmosphere, well organised. More of a family gathering than a fair which was excellent.